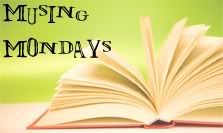 Today's Musing:
What does your bookshelf (or, what do your bookshelves) say about you to the people who come into your home?
People visiting have made comments like "wow do you have enough books"?, or "you must love to read" and then they will usually look at the synopsis' of a book, and ask "was this good? Mind if I borrow'?
However, they usually don't see all of them. On my PB shelf, there are 2 piles in depth of the shelf, so there are a lot hidden, even to me. Visitors will also see what hubby and I went to school for because some of our college textbooks are in the bookcase too.
Overall, I would say that my bookcases say that I am an avid read with a wide range of genres.