I just found this new Monday meme via Vicki from Reading At The Beach. It looks like fun so am going to participate. Link is provided if you want to join too. I so enjoy getting to know all the bloggers I follow a little better and thought this was another great way. I would have liked to add images to the questions, but since I just found it, will plan to do it next week. Here is what this meme is about: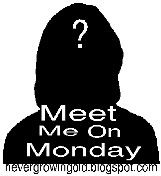 "Meet Me On Monday!"
Blogging is a funny thing...we tell our most intimate thoughts for all to read and yet most of the time I find myself sitting and wondering, "who is this person!?" I know them...but yet I don't know them! I want to know who the person is behind all those words so I thought of a great way for all of us to "meet" each other!
Every Sunday I will post five get to know you questions that you can copy and paste into your own Monday post and we can all learn a little more about each and every one of us!!
Questions:
1. What is your favorite kind of doughnut?
Glazed or Honey Dipped and Jelly
2. How often do you pray?
Many times during the day
3. What is your favorite kind of music?
R&B
4. What do you order when you eat Chinese food?
Pork LoMein and Crab Ragoons
5. Would you rather snowboard in the winter or swim in the summer?
Definitely swim in summer