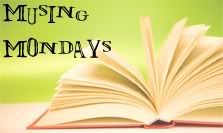 Today's Question:
How often do you actually put into practice what you learn from reading nonfiction books (if you read nonfiction, that is)?
My Answer:
Today's question is an easy one, yet a boring one when it comes to me. The answer is No. I don't read self-help books. I did read one many years ago, can't even remember the title so I guess I didn't "put it into practice" lol.
What about you. If you want to join in the fun, link provided above.