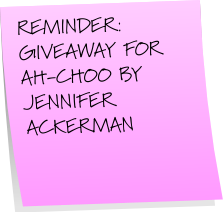 Am very, very late posting today. My laptop went on strike....guess I am overworking Lily Laptop but hubby came to the rescue. Hope everyone is having a great weekend. My plans for today is to catch up on all my computer to-dos and then hoping to finish my current read. What are your plans for this fabulous Sunday. Be on the look out...more giveaways will be posted within the next couple of days. And don't forget to enter for AH-CHOO, cold and flu season is just a few months away to this would be a great reference book for the coming months.

Slapdash Sunday is a day for your proverbial week 'leftovers.' Is there something you wanted to say, but just forgot? Is there something you want to write about, but isn't worth a whole page? Do you have a random thought, funny or otherwise that needs to be written down?
That is what Slapdash Sunday is for!
Today's topic: Requested Review Books:
As I slowly work my way through all my requested review books, I was wondering.....
Do you have a review policy? Do you read your requested books according to your schedule or the schedule of the person requesting a review?
According to my review policy, I read my requested reviews in the order that I receive them. As soon as I receive a book, a post-it is attached, the next number in sequence is noted, who the request is from and any other information for that book. I also, add it to my TBR Reading Schedule located on my blog so that agents/authors can see where their book is in relation to my reading schedule.

How do you decide which books you read from your requested review book pile? Do you have a schedule as to how you read books that are requested? How do you keep track of all your books? How do you manage your requested review books?
Would love to hear!! Let's have a Slapdash Discussion!!