This morning I spoke about 2-- 2011 Challanges I had my eyes on.....well......I decided to take the plunge and sign up today. I have a lot going on in the coming weeks so thought I might as well post about it today, especially since they both are 2010/2011 Challenges. I will provide links for those who may be interested in joining!!
The first is being hosted by Yvonne from

Socrates Book Reviews

. Thank you Yvonne.
2011 James Patterson Challenge. I am signing up for Level 2--Read 5 books....a loyal fan.
The following is the criteria from her blog:
I decided that I love reading James Patterson's books so much that I'm going to begin a new James Patterson reading challenge. In the next couple of days, I'll be starting an Alex Cross challenge, too!
This one is a bit different than last year. You get to choose how many books you want to read.
Level 1 - Read 2 books...just trying them out
Level 2 - Read 5 books...a loyal fan
Level 3 - Read 10+ books...obsessed with James Patterson
Here are the guidelines...
1. Choose one of the levels above. You do not need to make a list of what you will read now or, if you want, you can. However, nothing is written in stone and the books you list can be changed at any time. Overlapping books with other challenges is allowed.
2. Although you can change books throughout the year, you cannot change your level of participation. So, choose one level and that's what you must stick with for the year.
3. As long as it's written by James Patterson, you can use the book in this challenge. Even if you are part of my upcoming Alex Cross challenge, you can overlap books and count them as part of this challenge.
4. All books need to be read between
September 1, 2010 and August 31, 2011
. Books read prior to September 1st don't count for this challenge.
5. If you want to participate, just post about it on your blog with a link back to here.
6. Audio and Ebooks are acceptable.
7. Please use Mr. Linky below to sign up. Use the link to your post about this challenge, not your main blog address. Links that don't go directly to your challenge post will be deleted.
8. Once you complete the challenge, please post the link to your wrap-up blog post with Mr. Linky (I will put up a Mr. Linky for completed lists.)
9. There will also be a Mr. Linky for reviews, although posting your reviews are not a requirement.
10. You can take the button above and post it on your blog.
I will be starting off with reading Private
The 2nd Challenge is being hosted by Sarah at

BA Reading Challenges
. Thank you Sarah. You can also find her at Bookish Ardour and is hosting multiple challenges for 2011.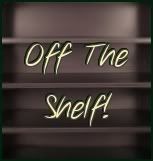 2011 Off The Shelf Challenge and will be signing up for Making A Dint-30 books.
This criteria for this challenge is:
October 30th 2010 to Nov 30th, 2011
Challenge Levels
Tempted– Choose 5 books to read
Trying – Choose 15 books to read
Making A Dint – Choose 30 books to read
On A Roll – Choose 50 books to read
Flying Off – Choose 75 books to read
Off The Shelf Challenge
Are your books multiplying like rabbits before you even get a chance to read them? Trying to keep up with them, but can't stop buying new ones?
Maybe this challenge is for you. I know what it's like. There's so many titles and so many beautiful books out there sometimes it's hard to keep that TBR shelf under control, but if you really want to try why not challenge yourself?
Note: This challenge is to read those books you own copies of, but have never got around to reading. If you don't have many that you own, but have a massive TBR shelf you're welcome to read those ones as long as you don't add new ones. You don't need to actually get rid of your books after you've read them, this is just to read them.
How To Participate
Decide which challenge level you'll be doing (further below) - do not include books that you buy from the start of this challenge.
Grab the code for the badge down below and post it on a side bar or in a signature (if you want to participate, but aren't blogging, on a social network or forum - Submission For Non Bloggers).
Create your own post to let all your readers know you're taking part in the challenge and at what level (if you're really proficient you can list your books!). Make sure to link back to this page with either one of the buttons or a text link..
Use the link form below to enter into the challenge by sharing your challenge post url and your name (either your name, blog name, or both).Please don't use the comment form to participate, only to comment on the challenge or something else..
Submit your reviews (if you choose to review them, but that is optional) on the review page.
When you've completed you're challenge let us know on the completion post. If you're using a tag or category I recommend sharing the link back to that so everyone can find them
Anyone want to join me? Thanks Gina for posting about these challenges!!
I will be back later tonight to announce the winners of How Music Works, so last chance to enter.
And don't forget to Fall Back and change your clocks!!