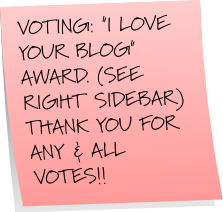 Slapdash Sunday is a day for your proverbial week 'leftovers.' Is there something you wanted to say, but just forgot? Is there something you want to write about, but isn't worth a whole page? Do you have a random thought, funny or otherwise that needs to be written down?
That is what Slapdash Sunday is for!
Hi Everyone!!!! Not sure if anyone noticed I was gone for a few days, but if you did, I'm back lol.
Hubby and I took a road trip to PA to visit our youngest son, Mark and his gf, Jess. Mark knows that hubby loves Pink Floyd and there was a sold out concert for all 3 performances, but, he managed to get tickets at a decent price, so we drove down on Thursday. It was our 1st time to visit him since he moved there, couldn't go sooner because of my surgeries, so we were excited to go. The 5 hour drive was a bit rough on my back but I passed the time reading and finished a book (now need to write the review). I thought that I would, at least, check my emails and blog, but we didn't even take our laptops out of the trunk. That's not to say that I didn't have blog withdrawals lol.
Thursday night the kids picked us up at the hotel and we went to supper. Jess dropped off the boys at the concert (Jess and I aren't fans of Pink Floyd) and then dropped me back at the hotel. I, was unable to do much else that day because of the discomfort, and we knew that Friday was going to be a long day.
Friday we drove to where Mark and Jess live, and loved it!!!! The complex is huge and its like a resort with everything they have access to. An indoor pool, gym, restaurant, daily activities, huge outdoor pool, etc., etc. They then took us on a tour of Philly, to see many of the historical sites. And of course, we had to see the stairs at the Museum, where Rocky Balboa ran to the top. Hubby said that he was going to run those stairs with no problem, UNTIL he saw them. So instead Mark took a picture of him in front of the statue. Friday night we went to dinner at another historical restaurant that was built around 1850. It was quaint, had a small seating capacity, the fireplace was lit, and the food was delicious. Jess' mom made the arrangements and the 6 of us, the kids and Jess' parents had a wonderful evening.
And yesterday, back on the road to come home.
So since I never even took out the laptop, and have so much to catch up on, and it is Slapdash Sunday,

My question and topic today is:
How are you? What did I miss while away? What is new with you? Did I miss out on some great reviews of books that you read? Which ones? What is happening in book bloggy land that you think I might be interested in?
I missed everyone!!...and now its time to play catch up.... so will get to work, and TTYS!!!!