Published by Grand Central Publishing
The Hachette Book Group
ISBN 978-0-44653578-6
At the request of Bestsellersworld, an ARC TPB was sent, at no cost to me, for my honest opinion.
Synopsis (borrowed from B&N):
Roxanne Callahan has always been her younger sister's caretaker. Now married, her happiness is threatened when beautiful and emotionally unstable Simone, suffering from crippling postpartum depression, commits an unforgivable crime for which Roxanne comes to believe she is partially responsible. In the glare of national media attention brought on her sister, Roxanne fights to hold her marriage together as she is drawn back into the pain of her troubled past and relives the fraught relationship she and Simone shared with their narcissistic mother. At the same time, only she can help Simone's nine year old daughter, Merell, make sense of the family's tragedy. Cathartic, lyrical, and unflinchingly honest, THE GOOD SISTER is a novel of four generations of women struggling to overcome a legacy of violence, lies and secrecy, ultimately finding strength and courage in their love for each other.
My Thoughts and Opinion:
Ms. Campbell was able to take a real life , often misunderstood, disease, and with her sensitive, personal experience and masterful writing style, to create a fictional story that was poignant, emotional and heart wrenching. The family dynamics profound, psyches formed from childhood make one wonder of their own family dynamics. This book, at times was very personal and hard for me to read, especially because I could relate to the character of Roxanne. With this book, comes a "Reading Book Guide", and after reading it, I agree, this novel would make an excellent Book Club Choice. If you enjoy books where relationships are woven together, then this is a must read.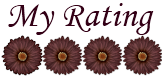 I received a copy of this book, at no charge to me,
in exchange for my honest review.
are ever sold...they are kept by me,
or given to family and/or friends.