SEPTEMBER 13th to SEPTEMBER 27th, 2011




THE BOOK OF LIFE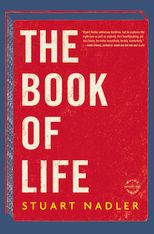 by STUART NADLER
SYNOPSIS:
Forced together on a trip from Manhattan to Rhode Island, a father and son attempt to renew their bond over lobster, cigarettes, and a buried secret. A pure-hearted artist finds his devotion cruelly tested, while his true love tries to repent for the biggest mistake of her life. Unwittingly thrust into an open marriage, a man struggles to reconnect with his newly devout son. And in the book's daring first story, an arrogant businessman begins a forbidden affair during the High Holidays. Written in clear, crystalline prose, The Book of Life comprises seven stunning tales about faith, family, grief, love, temptation, and redemption that signal the arrival of a bold and exciting new writer.
I HAVE THREE (3) COPIES OF THIS BOOK TO GIVE AWAY.
HERE IS WHAT YOU NEED TO DO TO WIN.
*

ALL COMMENTS TO BE SEPARATE

*
AND INCLUDE YOUR EMAIL ADDRESS
SO THAT I CAN CONTACT YOU IF YOU WIN
*
LEAVE COMMENT: WHAT IN THE SYNOPSIS IS
DRAWING YOU TO WANT TO READ THIS BOOK?
*LEAVE SEPARATE COMMENT IF YOU

PUBLICLY FOLLOW

THIS
BLOG (IF NOT, GOOGLE FRIEND CONNECT ON RIGHT SIDE).
*REMEMBER TO INCLUDE EMAIL ADDRESS FOR ALL ENTRIES.
*U.S. AND CANADA RESIDENTS ONLY*
**

PER PUBLISHER

**
ONE WINNING BOOK PER HOUSEHOLD
PLEASE NOTIFY ME IF YOU HAVE
WON THIS BOOK FROM ANOTHER
SITE, SO THAT SOMEONE ELSE MAY
*
GIVEAWAY ENDS SEPTEMBER 27th AT 6PM EST
*
WINNER WILL BE CHOSEN BY RANDOM.ORG AND NOTIFIED
VIA EMAIL AND WILL HAVE 48 HOURS TO RESPOND
OR ANOTHER NAME WILL BE CHOSEN
This blog hosts the giveaway on behalf of the above.
Giveaway copies are supplied and shipped to winners via publisher, agent and/or author.
No items that I receive are ever sold...they are kept by me, or given to family and/or friends.
I received a copy of this book, at no charge to me, in exchange for my honest review.
I am not responsible for lost or damaged books that are shipped from agents.
I reserve the right to disqualify/delete any entries if rules of giveaway are not followed