SEPTEMBER 23rd to SEPTEMBER 30th, 2011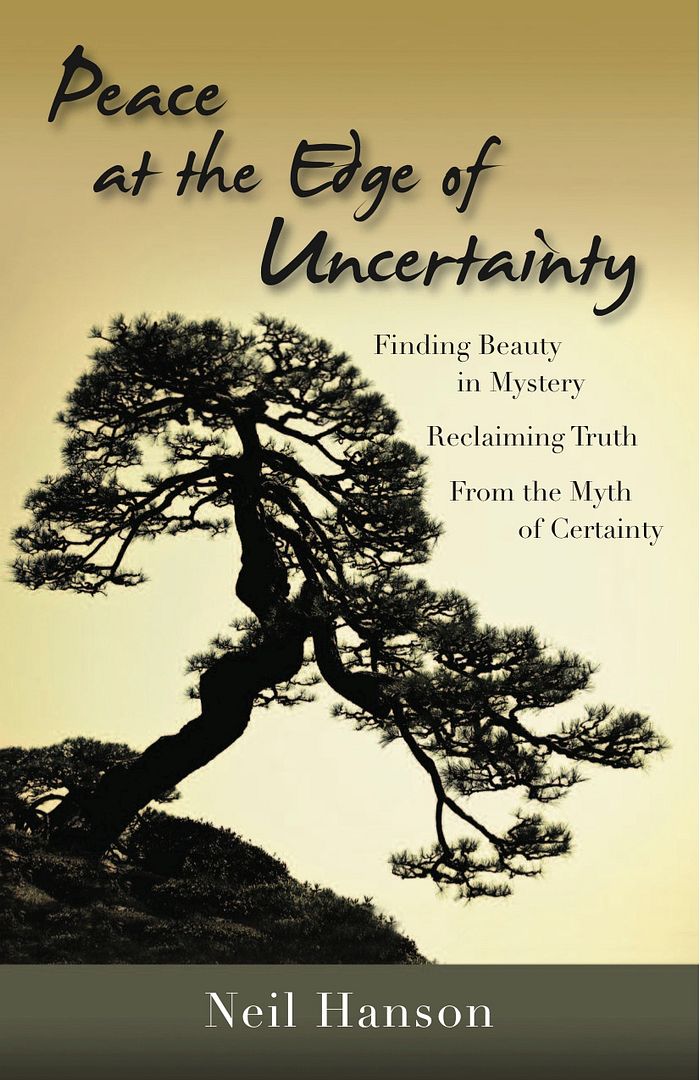 PEACE AT THE EDGE OF UNCERTAINTY by Neil Hanson
Published by High Prairie Press
ISBN 13: 978-0-9826391-0-8
At the request of Tribute Books, a

TPB

was sent, at no cost to me, for my honest opinion
Synopsis (from tour press package):
In this story told in the first-person form of a letter from a middle-aged man to his deceased father, Hanson invites us to journey with him through the final days of the father'
s
life, finding a magical transition waiting at the end of that journey. The story weaves end-of-life reality and spiritual questioning into a sensitive and revealing tapestry of Truth and Wisdom. The tapestry is colored with true stories of mystical experiences that inform the spiritual path of the son.
Most of us will face difficult and painful end-of-life decisions with the most important people in our lives. The threads of this aspect of the story are sensitive, and Hanson reveals the struggles and destinations of the son as he wrestles deeply with the journey that he must walk in making these decisions for his dying father.
My Thoughts and Opinions:
When I was first approached to read and review this book, and after reading the synopsis above, I honestly had to step back and think about it. Due to the fact that I am personally going through this same process, could this topic help or would it add to the stress I am already feeling. I kept reading the 2nd paragraph and felt that, yes, being the sole person responsible, it would help, and so I accepted.
It is a very short read (approximately 100 pages), and as the synopsis states, is a letter from a son to his father through the process of death and dying. It is also about the journey the son takes with his own faith. And as stated in the synopsis "difficult and painful end-of-life decisions", yes, a decision had to be made by the writer and 2 siblings but I felt that it was glossed over. In all fairness to the author, my expectations were set high on surviving family members having to make the "painful and difficult decisions". Being a former nurse and now the sole family member who is making the tough decisions, I was hoping that this book would convey how important it is and to help open communication within families regarding this topic, that is so uncomfortable to talk about but a reality no less, and one conversation that should take place
.
THANKS TO AUTHOR, NEIL HANSON, HE HAS GENEROUSLY
OFFERED ONE (1)

PRINT COPY

TO THE FIRST PERSON WHO
COMMENTS ON MY REVIEW-----

U.S. RESIDENTS ONLY
(PLEASE LEAVE EMAIL ADDRESS).
AND
EBOOK
EDITIONS--
INTERNATIONAL
TO THOSE THAT LEAVE COMMENTS DURING THE
MONTH OF SEPTEMBER (LEAVE EMAIL ADDRESS)
All entrants will automatically be subscribed to Neil Hanson's email newsletter. Contact information is NEVER shared, and subscribers can unsubscribe at any time.
*GIVEAWAY ENDS SEPTEMBER 30th AT 6PM EST*
Giveaway copies are supplied and shipped to winners
via publisher,
agent and/or author. This blog hosts
the giveaway on behalf of the
above. I received a copy of this book, at no charge to me, in
exchange for my honest review. No items that I receive are
ever sold...they are kept by me, or given to family and/or friends.
I am not responsible for lost or damaged books that are shipped
from agents. I reserve the right to disqualify/delete any entries
if rules of giveaway are not followed