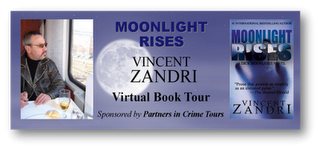 Today I am so excited for so many reasons!!! If you have been a follower for a while, you know what I think of today's guest. If you are new, then you are in for a treat!! Vincent Zandri,
my favorite
author, is back and this time he is on tour with Partners In Crime Tours. And not only that, there will be a giveaway of his latest book. Just a warning...if you happen to be the lucky winner....be prepared to have found your NEW favorite author. So please help me welcome back author and friend, Vincent Zandri !!
ABOUT VINCENT ZANDRI
Vincent Zandri is the No. 1 International Bestselling Amazon Kindle author of THE INNOCENT, GODCHILD, THE REMAINS, MOONLIGHT FALLS, CONCRETE PEARL and the forthcoming MOONLIGHT RISES. He is also the author of the bestselling digital shorts, PATHOLOGICAL and MOONLIGHT MAFIA. Harlan Coben has described his novels as "...gritty, fast-paced, lyrical and haunting," while the New York Post called THE INNOCENT, "Sensational...Masterful...Brilliant!" In March, April and May of 2011, he sold more than 100,000 Kindle E-Books editions of his novels, and is rapidly closing in on the 200K mark all totaled. An MFA in Writing graduate of Vermont College, Zandri's work is translated into many languages including the Dutch, Russian and Japanese. An adventurer, foreign correspondent, and freelance photo-journalist for RT, Globalspec, IBTimes and more, he divides his time between New York and Florence, Italy.
You can visit his website at
www.vincentzandri.com
or
Connect with Vincent on Twitter at
www.twitter.com/VincentZandri
,
on Facebook at
www.facebooks.com/vincent.zandri?ref=profile
and Myspace at
www.myspace.com/vincentzandri
.
Read my reviews of his other books:
Scream Catcher
Concrete Pearl
Pathological
Godchild
The Remains
The Innocent
Purchase links for MOONLIGHT RISES or any of the above books:
Amazon
Barnes & Noble
GUEST INTERVIEW
After what you went through with the big name publishing house and your success now, do you feel that you have finally "made it".
Well, I'm about to sign with another major publisher, so yes, I feel like I've made it to a certain degree. I make my living as a novelist and journalist right now. I could actually quit the journalism if I do choose, but I enjoy it so I keep my hand in it.
Do you feel secure and enjoying the success you so rightly deserve.
I'm actually never that secure, but then that keeps me hungry. Sure, I enjoy it and thank God everyday that I can wake up and do what I do for a living.
Does this recognition and success seem surreal or has it sunk in that you are in the same league as say, James Patterson, and other big names?
Well, I don't really think of it like that. I meet some of the biggies like Harlan Coben at conferences and I'm awed by them. At the ITW this past July I shared an elevator with Meg Gardiner and Lisa Gardner and I was tempted to press the STOP button and just stare at them for a while...Ha!
You seem to be even writing like Patterson, churning out best sellers one after another, how many are in the wings?
Ummm, at last count, three new ones waiting to go...I need an assistant. You available???
What and where do you draw the ideas from for your book, some are dark and profound.
They just come to me, that is, unless I rip them off from friends who aren't writers. I don't write the ideas down because the good ones always pester you in the middle of the night.
How much actual research do you do for your books, example the jail in The Innocent?
I went to jail. I stayed in a prison cell inside Sing Sing prison for most of the night.
Who is Vincent Zandri the man?
You have to ask my sig other to answer that one...Or my parole officer.
Your hobbies?

Traveling, running, lifting weights, fly fishing, skiing, seedy bars, women, eating, cooking, living the way I want to.
Your favorite authors? What are you reading now?
Hemingway, Mailer, Meg Gardiner, Harlan Coben, Charlie Huston, and too many to mention here.
I'm reading a new book by Dave Zeltserman called The Hunted for a blurb Dave asked me to write. I'm a big fan so I am very honored.
MY REVIEW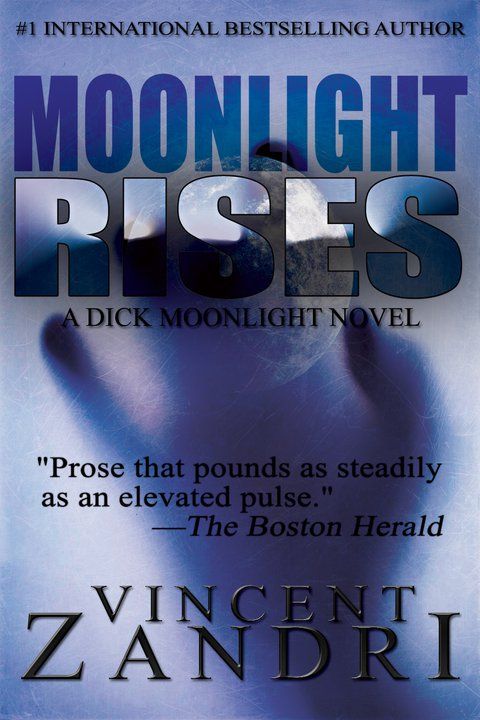 MOONLIGHT RISES by Vincent Zandri
Published by StoneGate Ink
ASIN: B005HB16Y6
Genre:Adult Suspense, Mystery, Thriller
Publication Date: August 13,2011
At the request of the author, a PDF edition was sent, at no cost to me, for my honest opinion.
Synopsis (borrowed from Amazon):
"Life sucks. Then you die. Or, if you're Dick Moonlight, first you die and then you live."
Really dead this time, now that three President Obama-masked thugs dressed all in black and communicating only with hand-held voice synthesizers pressed up against their voice boxes have beat the life right out of him inside a dark, downtown Albany alley. What are the thugs after? A box. Size, weight, description unknown. They also want him to stay away from his newest and only client: a handicapped nuclear engineer of dubious Russian heritage by the same of Peter Czech.

But then, now that they've killed him, Moonlight's problems seem to be over. In fact, as he undergoes an out of body experience, his soul floating above his train-wreck of a corpse inside the Albany Medical Center I.C.U., he feels pretty damned good. Great in fact. To make death all the more sweeter, his one true love, Lola, is standing by his bedside. With her long dark hair draping her chiseled face and big round Jackie O sunglasses hiding tear-filled eyes, she appears every bit the grieving sig other. Nothing could make the dead-and-gone Moonlight prouder.

But then something happens. Something bad. A man enters into the I.C.U. Some young guy. He takes hold of Lola's hand, and pulls her into him. Together, the two share a loving embrace over Moonlight's dead body. Now, what seemed like a peaceful death is anything but. Moonlight wants back inside his body so he can face-off Some Young Guy and find out if his true love has in fact been cheating on him. At the same time, he wants to find out the true identity of those thugs who killed him so he can exact his revenge. No doubt about it, Moonlight needs to live if he's going to uncover some pretty painful answers and take care of business.

Like a little kid dropping down a playground slide, Moonlight slides right back inside his bruised and broken body. Opening his eyes the white light blinds him. He feels the pain of his wounds and the pain of his breaking heart.

Life sucks, then you die.

But Moonlight rises.
My Thoughts and Opinion: If you follow my blog you already know what I think of this author. And you probably also know the two words that always come to mind when I finish one of his books are brilliant and genius!!! And you already know what the rating I will be giving this book....you got it....a 5!!!! Another winner!!!
But for those who are new followers, if you like mystery and suspense, this is the author that you HAVE to read!!! This is the sequel to
Moonlight Falls
, the one that grabbed me, hook, line and sinker. However, it can also stand on it's own. Zandri. with his masterful writing, brings you up to speed with
Moonlight Rises.
The quirky P.I., Dick Moonlight is back with his unconventional investigations and sometimes outlandish one liners. Zandri, once again, takes you on a fast paced, action packed ride, filled with twists and turns that the reader never sees coming.
I have read every book that this highly talented author has written.
Do I recommend him? ABSOLUTELY!!!!

THANKS TO AUTHOR, VINCENT ZANDRI, I HAVE
ONE (1)

EBOOK EDITION

TO GIVE AWAY.
THE GIVEAWAY ENTRY PAGE.
DISCLAIMER
I received a copy of this book, at no charge to me,
in exchange for my honest review.
are ever sold...they are kept by me,
or given to family and/or friends.
I do not have any affiliation with Amazon.com,
Barnes & Noble and/or any other retail/wholesale
outlets either online and/or elsewhere.
I am providing this link solely for visitors
that may be interested in purchasing this Book/EBook.
I do not receive any monetary compensation from any parties