.......for MISS SCARLET'S SCHOOL OF PATTERNLESS SEWING
by Kathy Cano-Murillo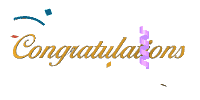 Random Integer Generator
Here are your random numbers:
15 9
Timestamp: 2011-03-22 22:13:50 UTC
Tore said...
15
No I don't sew. I tried to learn in high school but no luck. I really should try to learn. Please enter me in contest.
bermudaonion said...
9
No, I don't sew. I've tried, but don't have the knack for it
An email has been sent to the winners and they have 48 hours to respond with their mailing information or another winner will be chosen.