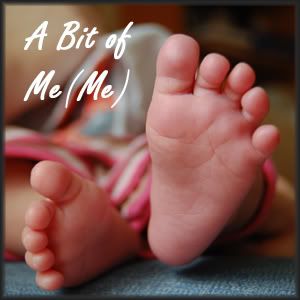 Hosted by Danielle at
There's A Book
From Danielle's blog:
We all leave our "footprint" on the world, in one way or another. We each, individually, do something or are someone that makes the world a little better just by being here. I created this weekly meme to get to know the blogging community I love just a bit better. To know what makes them tick, outside of books, that is. Each week I will post a question to be answered in the following week's "A Bit of Me(Me)". Check back each Saturday to get the info for next week's post and link up with your current post right here.
This week's question: What super-power would you most like to have, and why?
What a fantastic question this week and if only it could become a reality. I chose that I could survive on no sleep. It would give me more hours in the day to get all that I wanted to get done. Plus sleep is what energizes our bodies, which would mean that I would also have the energy to complete tasks. LOL off to take a nap lol.
From Yvonne's site:
I've wanted to start a meme like this for a long time. It's "Anything Goes on Saturday". It's a chance to choose any topic you want and talk about it on Saturday - it can be about a book, TV show, movie, a recipe or just an update on your week. Whatever you choose.
Today's topic: Bloggers' role in the publishing world
When I first started blogging, I thought, which we are, avid readers who share our thoughts on books we have read and have discussions as if we are like one big book club. But the more I have learned over this past year, I wonder if we play a greater role in the world of authors' careers, publishing, etc. Do you feel that we are looked upon as "just bloggers" or are looked upon "with respect" as to what our thoughts are pertaining to books? Would love to hear your thoughts!!