I will be blog hopping a little later today. For those who stop by, thank you. I will visit you as soon as we get back. We are making another long trek for a post op visit. While hubby is driving, after we make a visit to Dunkin Donuts for coffee, I am hoping to pass the time reading. Have a fun day hopping, will join you, when we get home. Which leads me to my Aloha Friday Question.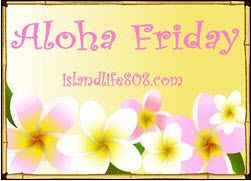 From An Island Life:
In Hawaii, Aloha Friday is the day that we take it easy and look forward to the weekend. So I thought that on Fridays I would take it easy on posting, too. Therefore, I'll ask a simple question for you to answer. Nothing that requires a lengthy response.
If you'd like to participate, visit An Island Life answer the question and then post your own question on your blog and leave your link below. Don't forget to visit the other participants! It's a great way to make new bloggy friends!
What are your plans for today?.