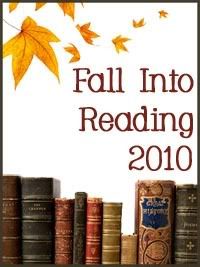 I think I found something to jump start my slump!!! A Challenge!! Yesterday it kept coming up in my google reader via many of the blogs I follow, so I headed on over to Callapidder Days, I just love the blog name! I read the criteria and decided to join in.
First, I would like to thank Katrina for hosting. The following is from her blog, if you want to join in too:
Here's a brief recap of how to be a part of Fall Into Reading 2010:
*Make a list of books you want to read (or finish reading) this fall. Your list can be as long or as short as you'd like. (Also, feel free to modify your list during the challenge if it's not working for you.)
*Write a blog post containing your list and submit it to this post using the Mr. Linky below.
*Get reading! The challenge goes from today, September 22nd, through December 20th.
*Check out other participants' lists and add to your own to-read-someday pile!
*Write a post about your challenge experience in December, telling us all about whether you reached your goals and how Fall Into Reading went for you. But remember: this is a low-pressure challenge that should be fun. As long as you do some reading this fall (and enjoy it!), that's good enough for me.
*
Every week (beginning next Tuesday), I'll be posting a question relating to reading — there will be questions about your reading habits, reading memories, or current reading experiences.
Books To Complete:
1. The Chill Of Night by James Hayman
2. Mr. Rosenblum Dreams in English by Natasha Solomons
3. Mask Of The Betrayer by Sharon Ann Donovan
4. Red Hook Road by Ayelet Waldman
5. Love Always, Hobby and Jessie by Sara Robinson
6. i know i am, but what are you? by Samantha Bee
7. Fly Away Home by Jennifer Weiner
8. Hollywood Savage by Kristin McCloy
9. Blindman's Bluff by Faye Kellerman
10. And One Last Thing by Molly Harper
I am hoping to add more as time goes on.