I want to thank all that participated in Table Talk Tuesday. Did you meet any new bloggers? Did you get to know a little bit more about bloggers that you follow? Any thoughts regarding what you liked/didn't like about the meme? Any suggestions to make it better?
**I know that I have to fix the linky in regard to time...forgot about all the different times zones (will make note of that for next week).
**Would you rather have to post less tidbits/questions? My vote for that is yes. I found it took a lot of time to answer/comment....so what about 1 or 2 tidbits/questions/comments?
Also, today, after getting my few computer to-dos, I will be away from the computer. Have had a reading slump over the past few days, not sure why, so today's plan is to do nothing but read, not even going to answer the phone, I need to get back on track.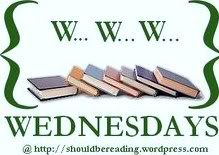 What are you currently reading?
What did you recently finish reading?
What do you think you'll read next?