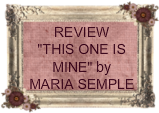 this one is MINE by Maria Semple
Published by Back Bay Books/Little, Brown and Company
ISBN: 978-0-316-03133-2
At the request of the author's friend, a PB copy was sent, at no cost to me, for my honest opinion.
Synopsis (from back of book):
Violet Parry has a picture-perfect life: a beautiful house, a successful husband, a darling daughter. Violet can speak French, quote Sondheim, and whip up dinner from the vegetables in her garden. She has everything under control-except her own happiness. All it takes is a chance encounter with Teddy Reyes, a roguish small -time bass player with a highly evolved sexuality to open Violet's eyes to what she's missing and upend her life completely
My Thoughts and Opinion:
This week I asked advice for getting out of my reading slump because I felt that I just couldn't and didn't want to pick up this book and read. And then today, in my google reader, another book blogger/reviewer answered my question. Alayne from
The Crowded Leaf
, posted
her review
of this very book and made me realize why the slump. She could not finish it. I read 90 pages and did not like, nor could I relate to any of the characters. This is my opinion, and only my opinion, but without giving away a spoiler to the plot, I had a hard time with the story line. I have read other books with a similar theme but this book was difficult to read in the way it was presented. Unfortunately, I had to set this one aside and place in the DNF pile.
I received a copy of this book, at no charge to me,
in exchange for my honest review.
are ever sold...they are kept by me,
or given to family and/or friends.