.......for ETERNAL RIDER by Larissa Ione

Random Integer Generator


Here are your random numbers:

4 10 7

Timestamp: 2011-04-23 22:12:34 UTC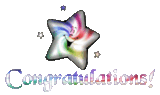 Tore said...
4
I do believe in fate. I think everyone has a destiny. I think everything that happens to people is met to happen. People they meet and places they go. I definitely believe in fate. Please enter me in contest.
donnas said...
10
GFC follower
Pamk said...
7
I retweeted
An email has been sent to the winners and they have 48 hours to respond or another winner will be chosen.