APRIL 9th to APRIL 23rd, 2011
ETERNAL RIDER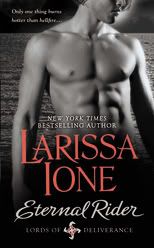 by LARISSA IONE
SYNOPSIS:
They are here. They ride. The Four Horsemen of the Apocalypse.
His name is Ares, and the fate of mankind rests on his powerful shoulders. If he falls to the forces of evil, the world falls too. As one of the Four Horsemen of the Apocalypse, he is far stronger than any mortal, but even he cannot fight his destiny forever. Not when his own brother plots against him.
Yet there is one last hope. Gifted in a way other humans can't-or won't-understand, Cara Thornhart is the key to both this Horseman's safety and his doom. But involving Cara will prove treacherous, even beyond the maddening, dangerous desire that seizes them the moment they meet. For staving off eternal darkness could have a staggering cost: Cara's life.
THANKS TO BRIANNE AND THE SPECIAL
PEOPLE FROM THE HACHETTE BOOK CLUB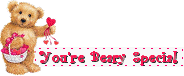 I HAVE THREE (3) COPIES OF THIS
PNR BOOK TO GIVE AWAY.
HERE IS WHAT YOU NEED TO DO TO WIN.
*

ALL COMMENTS TO BE SEPARATE

*
AND INCLUDE YOUR EMAIL ADDRESS
SO THAT I CAN CONTACT YOU IF YOU WIN
*

LEAVE COMMENT: DO YOU BELIEVE IN FATE?

*
*LEAVE SEPARATE COMMENT IF YOU

PUBLICLY FOLLOW

THIS
BLOG (IF NOT, GOOGLE FRIEND CONNECT ON RIGHT SIDE).
*LEAVE SEPARATE COMMENT IF YOU FOLLOW ME ON
FACEBOOK
.
*LEAVE SEPARATE COMMENT IF YOU FOLLOW ME ON
TWITTER
.
*LEAVE SEPARATE COMMENT TO LET ME KNOW THAT YOU THAT
YOU

RETWEETED

THIS GIVEAWAY @ WHAT NAME.
*REMEMBER TO INCLUDE EMAIL ADDRESS FOR ALL ENTRIES.
*U.S. AND CANADA RESIDENTS ONLY*
*NO P.O. BOXES*
**

PER PUBLISHER / HONOR SYSTEM

**
ONE WINNING BOOK PER HOUSEHOLD
PLEASE NOTIFY ME IF YOU HAVE
WON THIS BOOK FROM ANOTHER
SITE, SO THAT SOMEONE ELSE MAY
HAVE THE CHANCE TO WIN
AND READ THIS BOOK.
THANK YOU.
*

GIVEAWAY ENDS APRIL 23rd AT 6PM EST

*
WINNER WILL BE CHOSEN BY RANDOM.ORG
AND NOTIFIED VIA EMAIL AND WILL
AND WILL HAVE 48 HOURS TO RESPOND
OR ANOTHER NAME WILL BE CHOSEN

Giveaway copies are supplied and shipped to winners via publisher,
agent and/or author. This blog hosts the giveaway on behalf of the
above. I received a copy of this book, at no charge to me, in
exchange for my honest review. No items that I receive are
ever sold...they are kept by me, or given to family and/or friends.
I am not responsible for lost or damaged books that are shipped
from agents. I reserve the right to disqualify/delete any entries
if rules of giveaway are not followed