Howdy Partners!!! Do I have a huge treat for you!!! And I mean HUGE!!! Rein in your horses and tie them up to the posts because you are definitely going to want to stay for a while!!! While on her blog tour, one of her stops is here, HERE today, taking time out of her very busy schedule. We have New York Times Best Selling Author, Linda Lael Miller!!!!! I told you it was HUGE!! So please help me give her a very warm western welcome to our blog!!!!
ABOUT THE AUTHOR
Each morning shortly after the sun rises over Spokane, Washington, New York Times bestselling author Linda Lael Miller pulls on her cowboy boots and heads for the stables for a few quiet moments with her horses before she settles in to write her pages for the day.
As the daughter of a town marshal, Linda has come home to the western lifestyle that gave birth to one of today's most successful authors. With more than 80 novels to her credit, the self-confessed barn goddess left Washington years ago and pursued her wanderlust, living in Arizona and London and traveling the world. But now the "First Lady of the West" is glad to be back home, writing contemporary and historical novels that have earned her awards and placements on all the national bestsellers lists.
Linda traces the birth of her writing career to the day when a Northport teacher told her that the stories she was writing were good, that she just might have a future in writing. Later, when she decided to write novels, she endured her share of rejection before she sold Fletcher's Woman in 1983 to Pocket Books. Since then, Linda has successfully published historicals, contemporaries, paranormals, and thrillers before coming home, in a literal sense, and concentrating on novels with a Western flavor. For her devotion to her craft, the Romance Writers of America awarded her their prestigious Lifetime Achievement Award in 2007.
Linda has come a long way since leaving Washington to experience the world. "But growing up in that time and place, in a family grounded in Western values, served me well," she allows. "And I'm happy to be back home."
To learn more about Linda, visit
http://www.lindalaelmiller.com/
. For a behind-the-scenes look at the sexy Creed cowboys, visit www.
TakeACowboyHome.com.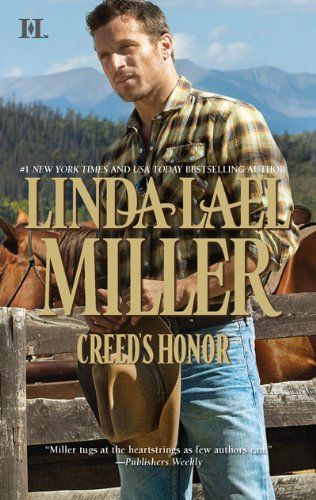 ABOUT THE BOOK
SYNOPSIS:
On the heels of the #1 New York Times best-seller A CREED IN STONE CREEK, "First Lady of the West" Linda Lael Miller is back with the highly anticipated CREED'S HONOR (HQN Books; June 2011; $7.99), the second installment in the rugged and romantic "Creed Cowboys" trilogy. Miller introduces eager readers to Connor Creed, a dedicated cowboy and cousin of Steven Creed from A CREED IN STONE CREEK, who is looking for his place in the Wild West.
Conner Creed knows exactly who he is: a hardworking rancher carrying on his uncle's legacy in Lonesome Bend, Colorado. Maybe a small-town cowboy's life isn't his dream, but he owes the man who took him in as a kid. Until the identical twin brother he's been estranged from for years reenters his life.
Conner struggles with identity issues as he gets to know his wilder brother. And then he meets Tricia McCall, a beautiful woman who knows a thing or two about living someone else's dreams. Together, they just might find their own dreams right here in Lonesome Bend….
THANKS TO THE TRICIA AND THE AWESOME PEOPLE
AT MERYL L. MOSS MEDIA I HAVE ONE (1) COPY OF
THIS RUGGED AND ROMANTIC BOOK TO GIVE AWAY.
THE GIVEAWAY ENTRY PAGE.
Giveaway copies are supplied and shipped to winners
via publisher, agent and/or author. This blog hosts
the giveaway on behalf of the above.
are ever sold...they are kept by me,
or given to family and/or friends.