SILVER GIRL by Elin Hilderbrand
Published by Reagan Arthur Books/
Little, Brown and Company, Hachette Book Group
ISBN-13: 9780316190428
At the request of The Hachette Book Group, an ARC TPB was sent, at no cost to me, for my honest opinion.
Synopsis (from publisher): Meredith Martin Delinn just lost everything: her friends, her homes, her social standing - because her husband Freddy cheated rich investors out of billions of dollars.
Desperate and facing homelessness, Meredith receives a call from her old best friend, Constance Flute. Connie's had recent worries of her own, and the two depart for a summer on Nantucket in an attempt to heal. But the island can't offer complete escape, and they're plagued by new and old troubles alike. When Connie's brother Toby - Meredith's high school boyfriend - arrives, Meredith must reconcile the differences between the life she is leading and the life she could have had.
Set against the backdrop of a Nantucket summer, Elin Hilderbrand delivers a suspenseful story of the power of friendship, the pull of love, and the beauty of forgiveness.
My Thoughts and Opinion:
I would like to first start with 2 caveats. This was the first book I had read by this author. After posting that it was my current read, I received mixed comments about her previous books, so quite honestly, was a bit skeptical. The second, in fairness to the author, was the length of time it took me to read the book. It had nothing to do with the writing style, it holding my interest, the characters and/or the story line. Matter of fact, quite the opposite. I really enjoyed all of the above. It was because at the present time, I am also caught up in a televised trial that has taken away from my reading time.
As far as the novel, it is the type of read where you become part of the story. I felt that the author brought the characters to life, whereas I could feel their emotions. I enjoyed the dynamics of the relationships between the characters, including their flaws. At times, I wanted to comfort them and at times, reprimand them. The story covered a 40 year friendship and at certain times of reflection, would alternate between the present with memories of past. The setting of Nantucket was vivid. A moving novel of friendship, love, pain, forgiveness, loss, desperation, life and hope. My favorite quote in the book, which I feel is so true, was on page 313, "God, human beings were resilient, Connie thought. They were resilient!" A perfect summer read!!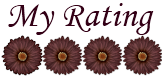 I received a copy of this book, at no charge to me,
in exchange for my honest review.
are ever sold...they are kept by me,
or given to family and/or friends.