I am sure that everyone has a million and one things to do today, running to store for that last minute gift that you forgot to pick up, finishing the wrapping of gifts, grocery shopping or cooking, which is what I will be doing after I post this. But I wanted to send Holiday Wishes your way.
The past few Saturdays, I have been sharing the challenges I plan on participating in for 2012. Today is no exception, except I am hoping that maybe I can sneak these by you lol.
JUSTIFICATION.....I had no choice!!!!! I did a little snooping on 2 blogs. One was my co-host's blog, Gina from Hott Books, and the other was the Reading Challenge Addict Challenge's Queen Addict, Bev from My Reader's Block. Gina, poor girl, she has it bad, is close to 30 challenges and Bev, well at last count, 23. Now I ask you, what kind of team player would I be if I didn't keep up with them. So, like I said, I had to.
One is for the year and one is a mini challenge. Here are the details in case you want to play along:
Are you ready for another round of Reading
52 books in 52 Weeks
? Whether you are just joining in or continuing on for another round, the rules are very simple. The goal is to read one book (at least) a week for 52 weeks.
Make the year easy and casual
or kick it up by exploring new to you authors and genres. Challenge yourself to read at least one classic a month or delve into that chunkster (more than 600 pages) you always wanted to tackle. The goal is to read 52 books. How you get there is up to you.
I have several mini challenges to make it fun:
12 in 2012: Read 12 books in 12 different categories
A to Z challenge: Read books alphabetically by title and/or author.
Jane Austen: Read all things Jane Austen
Mind Voyages: Explore the Hugo and Nebula winners, take side trips through the different decades reading the nominees.
Well Educated Mind: Explore the classics in five categories: Fiction, Autobiography, History/Politics, Drama and Poetry.
The mini challenges and weekly challenges are optional, Mix it up anyway you like.
The challenge will run from January 1, 2012 through December 31, 2012.
Our book weeks begin on Sunday.

Participants may join at any time.

All books are acceptable except children books.

All forms of books are acceptable including e-books, audio books, etc.

Re-reads are acceptable as long as they are read after January 1, 2012.

Books may overlap other challenges.

Create an entry post linking to this blog.

Sign up with Mr. Linky in the "I'm participating post" below this post.

You don't have a blog to participate. Post your weekly book in the comments section of each weekly post.

Mr. Linky will be added to the bottom of the weekly post for you to link to reviews of your most current reads.
MINI CHALLENGE--- READ-A-THON JANUARY 23-29, 2012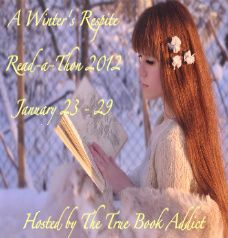 A Winter's Respite Read-a-Thon 2012.
The Winter's Respite Read-a-Thon is just a bit over a month away! Times are central standard time so adjust your times accordingly. I plan to host a mini-challenge (or two or more) and there will be a giveaway for every one who signs in at the starting line and completes a wrap up post at the end. Of course, like most read-a-thons, the books read must be novels or novellas, adult or young adult are fine, but no children's books. You DO NOT have to participate the entire week. Join in when you can, start in the middle, end early...whatever works best for your schedule. As long as you sign in at the sign-in post and do some kind of wrap up post, you're in for the giveaway. As with my previous read-a-thons, it will be a week of relaxed reading during which we can personally challenge ourselves and whittle away those ever looming TBR piles/shelves/libraries. I hope you will join me!
You do not have to have a blog to participate. You can sign-up, sign-in, and wrap-up...all from Facebook, Twitter, or Goodreads. You can also do updates from those locations, if you do not have a blog. Also, to chat or update during the read-a-thon on Twitter, use hashtag #WintersRespite.
I'm putting the call out to anyone who would like to host a mini-challenge and/or giveaway. Authors, if you would like to sponsor a giveaway or donate a prize, please let me know. You can contact me at truebookaddictATgmailDOTcom Any and all help will be greatly appreciated!