Published by Booklocker.com, Inc.
ISBN-10: 161434261X
ISBN-13: 978-1614342618
At the request of WOW Tours, a TPB was sent, at no cost to me, for my honest opinion.
Synopsis (from back of book):
Hospice Tails: The Animal Companions Who Journey With Hospice Patients and Their Families
T
old from the perspective of a hospice social worker, Hospice Tails is a baker's dozen of stories about the animal companions of hospice patients and their families.
In these pages you will meet King, an abused pit bull fiercely loyal to his rescuer, Fizzle, a teacup poodle who guarded his human in death as well as life, Io and Oi, two cats who facilitated a beautiful conversation between their owners, and Lightning, a horse who helped a widower find the strength to go on.
Uplifting, matter-of-fact, sometimes funny and never sappy, Hospice Tails will change the way you think about the animals in your life.
My Thoughts and Opinion: In this very short and quick read, 108 pages, the author introduces the reader to some terminally ill patients and their pets who give unconditional love and comfort to their owners until their very last breath. When I was contacted to read and review this book and also hosting the the author as a guest, it was an automatic yes. Being a former nurse, I have witnessed the residents in a Nursing Home setting and their reactions to and behavior toward animals. How one's eyes light up and a smile will appear. How the patient will eagerly try to pet or cuddle with the cat and/or dog, give him/her a treat.
This book had me exhibiting an array of emotions. Sadness, laughter, empathy and tears. A deeply emotional poignant read, however, delightful and funny. A definite book for animal lovers and for those in the medical field.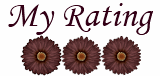 I received a copy of this book, at no charge to me,
in exchange for my honest review.
are ever sold...they are kept by me,
or given to family and/or friends.