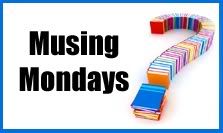 What's one book you always recommend to just about anyone?
Questions that ask for "one" answer is always hard for me, it's like answering what child do you love more. With that being said, I will have to bend the rules a bit.
This past year I have read books by authors that I definitely would recommend. Beachcombers by Nancy Thayer, Author Chevy Stevens' books, Megan's Way by Melissa Foster, and of course, any book by Vincent Zandri.
There are many more but it would depend on who I would be recommending a book to, what their likes are, the genre they are interested in.
What book would you recommend me to read?
According to Marcia, "Mailbox Monday is the gathering place for readers to share the books that came into their house last week. Warning: Mailbox Monday can lead to envy, toppling TBR piles and humongous wish lists."
WOW Tours Author