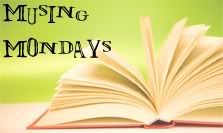 This week's question:
Do you ever find scenes from previous books you've read popping into your head at random times? If so, does it bother you? If it doesn't happen to you, why do you think that is?

My answer:
Yes. But I can't say it bothers me, it just justifies that the 5/5 rating I gave it was accurate. When a book stays with me long after I finish the last page and something in real life triggers a scene that either I created in my mind or reminds me of a particular book, to me means it was a phenomenal read. Two come to mind right away. Whenever I see the commercial for, I think it it is, the Marriot Hotel where a man is spinning plates on sticks, Spinning by Michael Baron instantly comes to mind. And now whenever I hear anything about Nantucket, I think of Beachcombers by Nancy Thayer. If an author has that ability, that's an author that try to read every book he/she writes.
May is being hosted by Mari from
Mari Reads
Mailbox Monday was created by Marcia of
A girl and her books
and is now on tour.
According to Marcia, "Mailbox Monday is the gathering place for readers to share the books that came into their house last week. Warning: Mailbox Monday can lead to envy, toppling TBR piles and humongous wish lists."
For Giveaway Won
The Hachette Book Group from Booking With Bingo
For Giveaway For Review ARC
from Doubleday from LT