By now I am guessing that everyone knows my morning routine...coffee, reading emails, newsletters and blog comments...and once again today started off with a warm and fuzzy feeling....Yup.....it happened again....someone likes my blog and has presented me with an award. Naomi from Naomi's Book Reviews (http://naomisbookreviews.blogspot.com/) has passed on this award to me: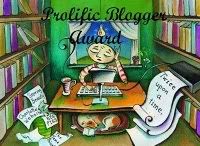 The criteria in accepting this award is:
" A prolific blogger is one who is intellectually productive, keeping up an active blog with enjoyable content"
After accepting this award, thank and link back to the person passing it on and recipients are asked to pass it forward to seven other deserving blogs and also let them know they are awarded.
In the past few weeks I have passed on awards to many deserving people. So what I plan to do is wait until the Book Blog Hop tomorrow in hopes of finding 7 new blogs to pass this award to. Naomi, thank you so much for this honor. And people...stop by Naomi's place, say hi and tell her CMash sent you.