Good morning all!! As you know, the eastern United States is preparing for a very unwelcome visitor, named Irene. Some have already been affected and others, like my family, are preparing for this storm. To those affected, please stay safe!!! As far as us, we are in the direct path and have been told we could be without power for days due to the high winds and downed power lines. So if you don't see me online, you know why. We are supposed to get the worse part sometime tomorrow but can get the outer ring rains starting later tonight.
On a better note, I think I have finally figured out the glitch in Sunday's Shining Star. So my question to you, since next week is labor day and many have end of summer cookouts, plans with family and friends, should I restart the event on September 11th or start it next week? Again, though it will depend if I have access to my laptop.
Also today is the last day for A Bit Of Me and I do love my memes. Does anyone know of any other memes for Saturdays that I haven't come across yet? Suggestions will be appreciated.
Again, to all blogging buddies in the path of Irene, please stay safe, have your book, book lights, candles EReaders charged, I know I do. There are priorities for a reader lol.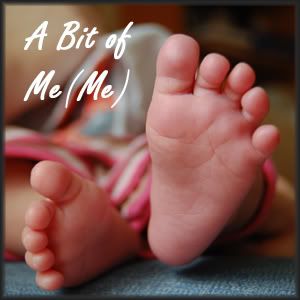 From Danielle's blog:
We all leave our "footprint" on the world, in one way or another. We each, individually, do something or are someone that makes the world a little better just by being here. I created this weekly meme to get to know the blogging community I love just a bit better. To know what makes them tick, outside of books, that is. Each week I will post a question to be answered in the following week's "A Bit of Me(Me)". Check back each Saturday to get the info for next week's post and link up with your current post right here.
This week's question:
As you can see by today's question, this will be the final week of A Bit Of Me. And true to form, Danielle has asked what has been the best part. I have teased her since participating in her weekly meme how she always asks to "name one" or "the favorite", etc. And every week, I never played by the rules and answered with more than one answer. But today I will follow her rules.
The best part: being a part of the Saturday A Bit Of Me Weekly Meme.
Danielle, you have been a fantastic host. It amazed me at the variety of questions you asked week after week. I enjoyed trying to find the images to go along with the questions then hopping around to see those who participated and seeing their answers and images. I will miss these Saturday morning visits but I also understand how much time it takes to host. So a BIG thank you for all of your hard work!!!!!!