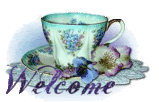 I would like to explain how this came to fruition. Hubby and I were having a discussion about the old days, (for the young'ens reading this..a little history lesson) but before the dark age. When Sundays were special and had traditions and rituals. Sunday mornings Church, come home to a big gravy (sauce) cooking on the stove, a big Sunday dinner, then either off to visit relatives/friends or wait for relatives/friends to drop by. We would spend the afternoon sitting around the table, talking, catching up, having coffee, pizza, calzones, etc etc, dessert. And now, how sad, all those traditions are gone. And then I got to thinking, why not have something similar here on my blog. This past year, I have met so many amazing and wonderful people (some I now call friends) through blogging, and how I am in awe of what they do and accomplish. How much respect I have for them, for their honesty, integrity, credibility and so enjoy when a bit of their personality shines through. So every Sunday, here at my place, the coffee will be on, the dessert is on the table and friends will be stopping by. And I will be rolling out the red carpet for my Sunday Shining Star Blogger guest.
I was told when I first found this community of book blogging that "book bloggers were the nicest bloggers there are" and I have never forgotten those words. And over the past year, I have truly met the nicest people. I also believe, even though we live behind a screen, a bit of our personality shines through. That is one of the reasons I am having so much fun with this weekly event, and hoping you are too, because we are getting to know those "nicest bloggers" around and about bloggyland a little bit better.
Do you believe it is already August? The summer is almost over friends!! Even though it has been hot and humid, I'll take this over the cold and snow anytime. So I thought we would take advantage of the nice weather and have another "gab session" cookout poolside. And yes, I got all of your complaints about the grumpy 2 men...what can I say except ....Men!!! lol
Today's guest is another special blogger. I'm sure a lot of you know her, but if not, I wanted to introduce her to you all. She is the founder of and made me a partner in Partners In Crime Tours. Today's Sundays Shining Star is

MOLLY

from

REVIEWS BY MOLLY

.
*When and why did you start blogging?
I started blogging in August of 2009. I had just finished reading a book, and was looking on line at some reviews of it. I came across another persons review that they had on their blog. I thought that it was a really awesome way to spread the word about books, so I hunted a little more and found the Blogger.com site and signed myself up for a blog.
*How and what made you decide on the name of your blog?
Well. I'm not really sure HOW I decided to name my blog. Really I looked around and saw that others had fancy names and stuff. I decided to go simple AND fancy: Book Reviews By Buuklvr81. After awhile, people got confused and would list me as Book Reviews By Booklover81 or something like that. So, I changed it last year to Book Reviews By Molly. Since then, however, I have made things even simpler: Reviews By Molly. It's been like that since the first of this year when I purchased the domain to my blog and made it into a website.
*What would you say is the main content of your blog?
The main content of my blogs is books. Occasionally, I review a DVD or a CD but not often. I love my books, both eBooks (gotta love my Nook!) and hard copies.
*If books, what genres do you mostly read?
Oh, that. Well, I'm VERY eclectic. I read everything. Christian fiction, Suspense, Historical, Mystery, Thrillers, Horror, some paranormal or gothic, children's books, young adult. I don't like Sci-Fi, though. No, I leave those for the Sci-Fi fanatics.
*How often do you post?
I try my best to post at least one post daily. Occasionally there may be a day or two (or three) when I just can't so I don't post on those days.
*What are some of the things that you love about blogging?
Hmmm, well most everything. I love meeting other bloggers and making friends. I love sharing the good books with others. I love helping the authors and publishers and seeing other peoples thoughts on the same book I've just read.
*What are some of the negatives?
Negatives. Well, I guess the negatives would be the time. It's a little time consuming when you have to format your posts, take the time to type them up, etc. Oh and sometimes it's very hard when you've done your best to read a book and write a review, and publishers or authors still aren't happy with your help.
*Name 1-3 favorite items/postings that you have/do on your blog?
Let's see. I LOVE my quote that's on my header. It just about sums up every good book I've ever read. Another thing, I love my button for The Romance Reviews! I feel all official like :~) And, lastly, I love my blog roll page. It shows some of the many fantastic bloggers out there that I follow.
*Any advice you would give to new bloggers?
Don't give up. Stick with it, even when you think you're not succeeding with the reviews or you feel frustrating because some might criticize your review, it's worth it in the end when you get an email from the author of that book, telling you how much your review means.
*What draws you to follow someone's blog?
Well, I think it's the quality of the blog really. Not the amount of followers or the reviews them selves. The way the blogger "pulls" you into their blog just from the site.
*Do you have any "pet peeves" that other bloggers do?
Definitely. When they send out blog awards. Don't get me wrong, there are some really awesome blogs out there highly deserving of such a reward, but it's even more time consuming accepting and "passing out the award" than creating the posts. Please. Don't send me an award, though I am grateful for the thought!
*Would you please share 5-7 things about the person behind the screen so that we get to know the "real" you!!
1. I'm a single(divorced) mom of two awesome little boys, Jakob-almost 9 and Jonah-7.
2. I'm a pharmacy technician.
3. I'm addicted to Ghost Hunters.
4. I love me some Sweet Tea (with lime!)!
5. I love to cook and bake.
6. I don't hate anybody...I love to make friends!
7. My mom is my best friend.
*Any other info you would like to share.
Yes. If you are an author who writes crime/suspense/thriller/mystery, check out our Virtual Book Tour site: www.partnersincrimetours.net . If you are a blogger, check us out there, too! And, if you don't have an eReader, might I suggest you get one? They are the awesome-est!!
Molly thank you for being my guest today and sharing a little bit of yourself with us. I, of course, have a lot to thank Molly for since she offered me partnership in Partners In Crime Tours. But even before that, Molly would email me or leave comments with the sweetest comments. You can see even in her answers how kind she is. She is a very devoted and loving single mom, hard working, patient and always willing to help others. And she does love her nook and sweet iced tea!!!! Molly is most definitely a Shining Star!!!