WELCOME!!!
I would like to explain how this came to fruition. Hubby and I were having a discussion about the old days, (for the young'ens reading this..a little history lesson) but before the dark age. When Sundays were special and had traditions and rituals. Sunday mornings Church, come home to a big gravy (sauce) cooking on the stove, a big Sunday dinner, then either off to visit relatives/friends or wait for relatives/friends to drop by. We would spend the afternoon sitting around the table, talking, catching up, having coffee, pizza, calzones, etc etc, dessert. And now, how sad, all those traditions are gone. And then I got to thinking, why not have something similar here on my blog. This past year, I have met so many amazing and wonderful people (some I now call friends) through blogging, and how I am in awe of what they do and accomplish. How much respect I have for them, for their honesty, integrity, credibility and so enjoy when a bit of their personality shines through. So every Sunday, here at my place, the coffee will be on, the dessert is on the table and friends will be stopping by. And I will be rolling out the red carpet for my Sunday Shining Star Blogger guest.
Has this happened to you during your blogging experience, you meet someone online, start chatting, find you have similar likes in books, start visiting that person's blog and from her posts you get a feeling of her personality, start chatting some more, then find more similarities in real life and then something just clicks, and you know, that if you were to meet, that you would be bffs in real life too? Well that has happened with my next
Shining Star.
So please help me welcome this week's guest,
JULIE FROM

READING WITHOUT RESTRAINT
*When and why did you start blogging?
I was cruising the internet late one night in April '10 and I stumbled across Reading With Tequila, a wonderful book blog. Before then, I didn't even know that book blogs even existed! After that, I was hooked and I started my own book blog. No one in my immediate family is an avid reader, so it is a great way for me to share my thoughts with like-minded book addicts!
*How and what made you decide on the name of your blog?
I thought of it right away. I wanted something catchy that flowed well. I think I did pretty good!
*What would you say is the main content of your blog?
Book reviews, bookish memes, etc......
*If books, what genres do you mostly read?
My favorites (at the moment) are thriller/suspense, chick lit and women's fiction.
*How often do you post?
I try to post every day, but sometimes real life does get in the way. I am sure everyone knows how that goes?
*What are some of the things that you love about blogging?
The community! I have "met" some wonderful people that I consider true friends. I also love all of the book recommendations I have gotten. Before I started book blogging I never would have thought of reading paranormal or young adult, but now I do and I enjoy them.
*What are some of the negatives?
It is soooooo time consuming!
*Name 1-3 favorite items/postings that you have/do on your blog?
I love the memes In My Mailbox and It's Monday What Are You Reading. I find the best books to add to my TBR list that way!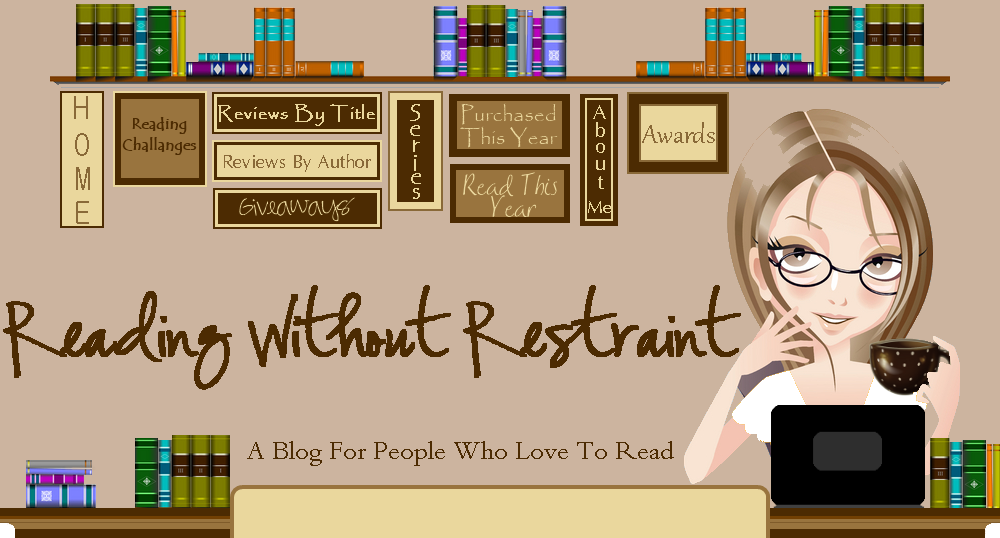 *Any advice you would give to new bloggers?
Be patient--your blog will grow on its own. Be honest in your reviews. Integrity in the book blogging community is very important!
*What draws you to follow someone's blog?
The design catches my eye first. Second to that is if the blogger enjoys the same genres that I do.
*Do you have any "pet peeves" that other bloggers do?
Not really. None that I can think of anyway.
*Would you please share 5-7 things about the person behind the screen so that we get to know the "real" you!!
1. I am newly single
2. I am a horrible bookaholic! I can't seem to stop buying them.
3. I have one sister and one baby niece in Phoenix
4. I have two dogs & one cat
5. I work for the federal gov't

Julie and I have become very good friends, to the point where we even talk on the phone and are hoping to make plans to meet later this year. It is difficult since we live on the opposite coasts of the United States. She has such a kind, genuine, caring and huge heart. A very emotionally strong and unconditional loving single mom who is trying (and succeeding) to teach her sons the morals and values of life. She has been there for me during some rough times and I hope that I am offering her the same kind of support to her as she faces a difficult journey in her life. If you haven't stopped by her blog, and you have some time, her link is provided above, she writes phenomenal reviews. Julie not only are you a Shining Star but I have the honor to call you my friend!!