Geeeez, I sure wish they would make the font larger in the phone book, don't you agree? I have been sitting here trying to find the local number for Challenges Anon...............oh well....since I can't seem to find the phone number, I might as well add a few more challenges lol. And since I have admitted to senior moments and CRS....I vaguely remember saying I wouldn't be signing up for so many in 2011......I'm bad..........With the following, I am up to 10. I am so addicted to books and challenges!!!!
I will be keeping track of my progress with these challenges, and the earlier ones I signed up for, by meters on my sidebar and books will be listed under my Challenges Tab at the top of my blog.
I participated in this one for 2010 and was one of the few that I completed, so am signing up for 2011.
Sign Up
To sign up you MUST make a post on your blog about participating in the challenge - you then use the URL of the post to sign up to the challenge by adding it to Mr Linky below. DO NOT just add your blog URL - this will be deleted. Also please be aware that unless you show you are joining the challenge with a participation post your ARC will not be sent.
You must add the button to your sidebar - make sure that it links back to this post so others can join the challenge if they wish. Easiest way to do this is to copy and paste the code displayed above!
Courtesy of publisher SIMON & SCHUSTER UK, all participants of this challenge will receive a free ARC of

The Survivor

by Sean Slater to start you off on your challenge! Once you have made your participation post and signed up for the challenge, email me with your full name, address, post URL and your entry number from the participants list below (so I can verify) and I will pass on your details. This is INTERNATIONAL!
Other Details
Timeline: 01 Jan 2011 - 31 Dec 2011
Rules: To read TWELVE (12) mystery & suspense novels in 2011 (12 is the minimum but you can read more if you wish!)
You don't have to select your books ahead of time, you can just add them as you go. Also if you do list them upfront you can change them, nothing is set in stone! The books you choose can crossover into other challenges you have on the go.
You can join anytime between now and the later part of next year.
At the beginning of Jan 2011, you will find a link to specific month to add your reviews. There will be a monthly prize too courtesy of the lovely Simon & Schuster - you must be signed up to the challenge and add the link to your review to be entered into the monthly prize draw.
To Claim ARC
I Want More Book Challenge 2011:Have you read a book and at the end said you must read another by this author but haven't? Then this Challenge is for you, what are you waiting for. :-) There are so many amazing authors but sometimes we get caught up in reading all the new we forget about the authors that have already impressed, excited us, gave us what all readers want, a great read, that wow moment, so this Challenge is to show all the authors that have pleased us already how thankful we are by reading more of their literary works.

Details:* Challenge Dates: January 1, 2011 - December 31, 2011
* All Genres are Welcome
* This challenge does NOT include Series, only stand alone
* See Levels below, you can change at any time if increasing, you cannot decrease once signed up.
* All forms of books will count - eBooks, Audiobooks, etc
* You do not have to list the chosen books ahead of time and your choices can crossover into other challenges you have joined.
* If you participate in this challenge please signup below. Either post and link back here with your direct link to your intro challenge post or put Challenge Button on sidebar linking back here please. In your post give us an idea of what authors impressed you so now You Want More.
* Monthly Giveaways - More details to follow soon

Level of Participation


Waited to long: 2 - 4 books (I have picked this level)
Give me more: 5 - 8 books
Never to much: 9 - 12 books

The Review Post for links will go up on Jan 1, 2011
I Want More Books from the following authors:
01. Pamela Samuels-Young
02. Nancy Thayer
03. Chevy Stevens
04. ?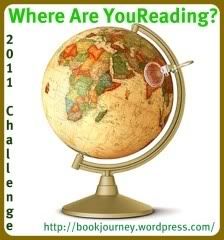 This Challenge starts January 1, 2011 – December 31st 2011. The Challenge consists of reading at least one book that covers each of the 50 states of America and you can add as many other countries as you like.
So how do you decide what state a book is categorized under?
1. In a fiction read it would be the State or Country that the book spends the most time in. (Ie. If your main character is from Wisconsin but the book is all about his/her time in college in California – the books should categorize under California….)
2. Non fiction reads categorize in whatever State or Country it is about (Ie…. a book about fly fishing in Colorado is a Colorado point, and a book about women in Afghanistan is an Afghanistan point.
How to get started
Set up a map under Google Maps. It is easy to do! Every time you read a book in 2011, upload a cover picture to
Picasa Web Albums
(there may be other sites to use, feel free to use what works best for you).
Questions?

Do you have to have a blog to participate? No. You can do everything on the map above without linking the book to a review.

Do I have to have my post up by January 1st, 2011? No, but I would think you would want to get started right away at the beginning of the year. However, you will be able to sign up throughout January as well.

How will people see my map? There are a couple of possibilities. On your original challenge post you should have a link to your map. You could also put it on your side bar to draw interest to it (see mine on my left side bar)
Once you are ready and have your map set up please create a blog post (those who have blogs) using the Challenge picture of the map I provided above as well as link to this post so others may join in. Then come back and link that post here to Mr Linky so I as well as other participants know that you are participating and we can pop in throughout the year to check out your map and how we are all doing.
This is actually a fun and easy challenge as all books you read qualify and it will be fun to see where you generally read books from as well as searching out books to fill in areas that you need.
For those who have covered the 50 states by the end of 2011, they will go into a drawing for a $50 gift card to Barnes and Noble or to Amazon. ** All other areas beyond the 50 states are bonus points and we will have a drawing using random.org for those who read 10 or more books throughout 2011 in that category.
You can see
my map
I worked on in 2010 here to see what the map looks like and how the pictures link to the reviews. (If you zoom in you will see the individual areas I read in and clicking on the blue pins will show you what book it was and clicking on the picture will take you to the post!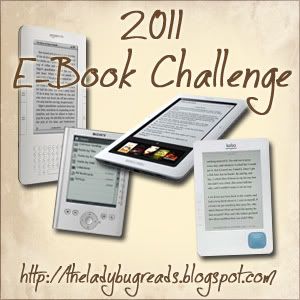 2011 E-Book Reading Challenge
This challenge was previously hosted by Alaine at Queen of Happy Endings. When she started looking for new homes for the 2011 challenges, I jumped at the chance to host this one. Since getting a Kobo eReader this past year, I've started reading more e-books. Since e-readers are now available internationally, a lot more people are going to be reading books in digital format. So why not challenge yourself and read even more?
Challenge Guidelines:
1. Anyone can join. You don't need a blog to participate.
--Non-bloggers: Include your information in the comment section.
2. There are four levels:
-- Curious – Read 3 e-books.
-- Fascinated – Read 6 e-books. (Have chosen this level)
-- Addicted – Read 12 e-books.
-- Obsessed – Read 20 e-books.
3. Any genre counts.
4. You can list your books in advance or just put them in a wrap up post. If you list them, feel free to change them as the mood takes you.
5. Challenge begins January 1, 2011 and lasts until December 31, 2011.
6. When you sign up under Mr. Linky, put the direct link to your post about the E-Book Reading Challenge. Include the URL so that other participants can find join in and read your reviews and post.