The Recessionistas by Alexandra Lebenthal (ARC)
Published by Grand Central Publishing
ISBN 978-0-446-56367-3
At the request of The Hachette Book Group, a TPB was sent, at no cost to me, for my honest opinion.
Synopsis (back of book):
It's the day after Labor Day, 2008, and the elite universe of New York's Upper East Side is bout to unravel along with the economy. Socialite Grigsby Somerset is barely aware of her changing world and has no idea her investment banker husband, Blake, is about to enter into a devil's bargain with hedge fund owner John Cutter. As autumn unfolds, Grigsby's fairytale life starts to unwind. Street-smart Renee Parker has been hired as John's executive assistant and is convinced that something is amiss with her new boss. Renee enlists her friend that something is amiss with her new boss. Renee enlists her friends Sasha Silver, CEO of Silver Partners, to help her decipher what is happening. They soon discover that John is nearly ruined, except for the assets he is hiding in the Cayman Islands from his wife, Mimi, and has concocted with Blake a scheme to redeem himself, This tale of expulsion from a modern-day Garden of Eden captures what happens when economic decline spells ruin for Manhattan's pampered elite.
My Thoughts and Opinion:
When I accepted this book, I thought it would be a classic chick lit read. However, it falls under more categories including: socialites, rich people, recessions, etc., and more, including attempted murder. The cast of characters varied widely from socialites to CEOs on Wall Street. Some likeable, some that left me shaking my head. The plot flowed but there was a lot of reference to the recent financial problems with hedge funds, which at times, I felt slowed down the story line. It was neither a fast paced nor profound read, which leaves it right in the middle as far as rating.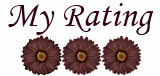 I received a copy of this book, at no charge to me,
in exchange for my honest review.
are ever sold...they are kept by me,
or given to family and/or friends.