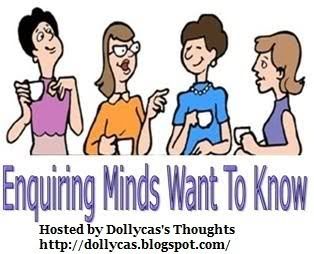 From Lori's site:
It struck me recently how much time I spend on this computer every day, blogging, chatting or playing games on Facebook, emailing friends and relatives, making cards and calendars, etc. etc. etc.
We depend on each other for book reviews, giveaways, encouragement, friendship, but how well do we really know each other?
So that is what this meme is all about, getting to know each other.
Each Thursday I will post 3 questions for you to answer that you can copy and post on your blog with your answers.
WEEK 9 QUESTIONS
WHAT IS YOUR FAVORITE HOLIDAY?
It was always Christmas Eve. But haven't done it in a few years due to my health. We would host a sit down supper for immediate family and friends, consisting of a 5 course fish and sides dinner (that is a Catholic/Italian tradition) and then have an open house for anyone and everyone that usually went into the wee hours of Christmas morning.
ARE YOU DRESSING UP FOR HALLOWEEN? IF YES, AS WHAT?
No
IF YOU HAVE KIDS ARE THEY DRESSING UP? AGAIN IF YES, WHAT ARE THEY DRESSING UP AS?
Since both boys live out of state, not sure. My youngest son did tell me that where he lives, that there will be a party in the club house and both him and his gf are getting dressed up. Hoping they send me some pictures.