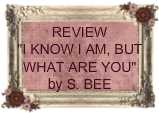 i know i am, but what are you? by Samantha Bee
Published by Gallery Books/A Division of Simon & Schuster, Inc.
ISBN 978-1-4391-4273-8
At the request of Gallery Books, a HC was sent, at no charge to me, for my honest opinion.
Synopsis (borrowed from book's jacket):
Critics have called her "sweet, adorable, and vicious." But there is so much more to be said about Samantha Bee. For one, she's Canadian. Whatever that means. And now, she opens up for the very first time about her checkered Canadian past. With Charming candor, she admits to her Lennie from Of Mice and Men-style love of a baby animals, her teenage crime spree as one half of a car-thieving couple (Bonnie and Clyde in Bermuda shorts and braces:, and the fact that strangers seem compelled to show her their genitals. She also details her intriguing career history, which includes stints working in a fame store, at a penis clinic, and as a Japanese anime character in a touring children's show.
Samantha delves into all these topics and many more in this thoroughly hilarious, unabashedly frank collection of personal essays. Whether detailing the creepiness that ensues when strangers assume that your mom is your lesbian lover or recalling her girlhood crush on Jesus (who looked like Kris Kristofferson and sang like Kenny Loggins), Samantha turns the spotlight on her own imperfect yet highly entertaining life as relentlessly as she skewers hapless interview subjects on The Daily Show. She shares her unique point of view on a variety of subjects as wide-ranging as her deep affinity for old people and her hatred of hot ham. It's all here, in irresistible prose that will leave you in stitches and eager for more.
My Thoughts and Opinion:
I have stated many times that I am not a TV watcher, so I need to confess, I have never watched the The Daily Show. But, after reading this book and knowing that the author, Samantha Bee is a senior correspondent of that show, there is a good chance I will be watching. The author writes about her dysfunctional family, her childhood antics and even some when she was a bit older. I found myself laughing out loud, chuckling and even at time saying "me too, me too!!!!" Each chapter was equally funny, whereas I couldn't even pick one as my favorite. However, there was one that really had me laughing and that I could really relate to, myself being of the same religion, was Man-Witch. She relates her story of being in a Catholic elementary school and having a "crush" on God. Reading this book now was the best remedy, to escape from "real life" and just laugh. Have this book on hand for when you just need to read something funny and totally entertaining.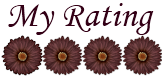 I received a copy of this book, at no charge to me,
in exchange for my honest review.
are ever sold...they are kept by me,
or given to family and/or friends.